Lead Generation
Lead Generation using Games is one of the best techniques for making your business more successful. You know what they say?… "The money is in the list"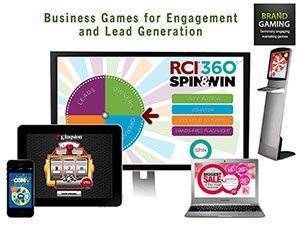 A memorable branded lead gen game will have lasting effects. Games are more exciting, memorable, interactive and valuable that will give the user a positive brand experience.
Event lead generation is also a very powerful way of offering people a chance to win something for their contact data. Incentivize players into customers. There are many ways to educate players about the benefits and features of your product or service.
It's partially a numbers game. If you can increase the volume of leads by 10% weekly and the average leads don't decrease you'll make 10% more income. This is simple and effective.
For every new email address, phone number or postal address you'll generate has value and is worth acquiring. It is very important to take lead generation seriously.
Adding games as a new tool will be one of the most important processes to your business and you should be constantly evaluating the effectiveness of all your lead generation strategy.
Lead Generation Instant Win Games Online
Prize Wheel, Scratch Off, Virtual Golf, Slot Machine, Virtual Plinko, Choose One, or Bingo. Demos of all our Digital Marketing Games are here
Through our innovations, we significantly help in engaging, attracting, interacting with, increasing lead generation. There are many other benefits that people can benefit from.  Gamification refers to the game marketing designing strategies that support user and audience engagement. Games are actually available everywhere due to the fact that they simply work for most businesses no matter the size.
Interactive lead generation games, however, are indeed versatile while having the capability to accommodate thousands of interactive marketing promotions. The reason why this specific type of simple gaming is highly recommended is because there are various options users can choose from. With multiple options and systems that are significantly unique compared to other services, brand gaming reflects genuine online platform that people deserve.